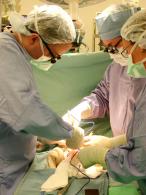 Trauma and inflammation are the primary areas of basic science research in the Division of Surgical Research within the Department of Surgery at Rhode Island Hospital and The Warren Alpert Medical School of Brown University. This research is supported by funds from Rhode Island Hospital and grants from the National Institutes of Health, Brown University, Women & Infants Hospital, Shock Society and other institutions. 
 
The mission of the Division of Surgical Research is to enhance patient care through the advancement of biomedical knowledge and to employ cutting-edge technologies in the pursuit of new therapeutic breakthroughs. Research in the Division spans a variety of disciplines and encompasses basic, clinical, and translational research.

The Division of Surgical Research is also home to an NIH-funded institutional Trauma and Inflammation Research Training Grant, an interdepartmental program directed at mentoring the development of the clinician-scientist dedicated to advancing the understanding of the pathophysiology of trauma-related disease.